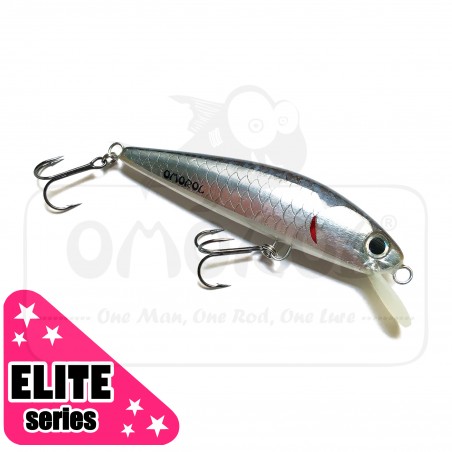  
OMOROL® Trout Snack 80S minnow "ELITE SERIES"
"ELITE SERIES" is a special edition characterized by the use of even more detailed aluminium foils, and colors with holographic transparency effects. These last, unlike the holographic to which we are accustomed, reflect in the light of the sun in a not too invasive way, simulating a natural scales reflection both on the back and on the gill operculum.
FEATURES: 80 mm x 14 g (SINKING)
– Proudly Made in Italy –
-------------------------
Image
Combination
Availability
Price
Add to cart
OMOROL® Trout Snack 80S "minnow" is a sinking resin jerkbait 100% handcrafted, which reproduces for size and characteristics a forage fish.
The sinking feature allows the lure to swim at different depths and to be worked with precision, making it suitable for catching trout and other predators in the river, stream and lake, simulating a prey on the run or dying.
The center of gravity is placed in the back half and allows to reach excellent launch distances despite the low mass of the bait. Moreover, the flat sides let this lure to perform a very attracting rolling during the jerking action, which combines perfectly with the tight and frequent wobbling in the straight recovery phase.
The use of the "circuit board lip" is specially designed to face the continuous collisions against rocks on shallow waters, in order to be able to practice a more aggressive fishing action. Details are very accurate and the protection of the livery is ensured by an epoxy finish.
– Proudly Made in Italy –
-------------------------
------------------------------------
IMPORTANT: our minnows are tested one by one before being packed. Anyway if the lure doesn't swim straight after a collision, it takes just a few seconds to recalibrate it.
If the minnow runs to the right (or left) slightly bend the head eye to the left (or right) with the pliers, looking at the lure frontally.